Bike rental offer for students in Copenhagen
Searching Availability...
Student bike rental
Having a bike in Copenhagen is the easiest and cheapest way of getting around
We offer the cheapest student bike rental service in Copenhagen and we ensure that you always have a fully working bicycle. We will help you become the perfect cyclist, the Danish way.
Prices starting at just 83;- DKK per month – See the price list below
Add a basket for only 60;- DKK for the whole rental no matter what rental you select.
We have created this student offer to be the cheapest student bike rental service in Copenhagen, as we know you save time and money getting around the city.
If you encounter any problems with your bike during the rental period we will simply swap it for another one, at no extra cost. This will ensure that you always have a fully functional bicycle for your time in Copenhagen.
We will help you get to know the rules, regulations and best practices, so you can bike safely around Copenhagen.
Once you leave our shop in Nyhavn you will have all the knowledge and a fully functioning city bike to explore Copenhagen.
Rental options:
1 month: 150 DKK (approx. 23 USD/20 EUR)
3 months: 400 DKK (approx. 60 USD/53 EUR) save 50 DKK
4 months: 500 DKK (approx. 75 USD/66 EUR) save 100 DKK
5 months: 600 DKK (approx. 90 USD/80 EUR) save 150 DKK
6 months: 700 DKK (approx. 106 USD/93 EUR) save 200 DKK
12 months: 1000 DKK (approx. 153 USD/151 EUR) save 500 DKK
All bikes include:
Lock
Lights
Adjustable seat
3 gears
Kickstand
Student bike rental – Good to know
Please note! Bikes without a basket are sold out.
There is a required deposit of DKK 1.000 for student bike rentals, which is paid when you book the student bike.
The full deposit will be returned to you when the bike is returned as you got it at the end of the rental period. If major damage (like a broken wheel) is done to the bike you must pay for the repair. A lost key is 250 DKK.
This offer is only for students and only valid with a student ID Card or invitation letter from a Danish study institution. Please bring one of these with you when you come to collect the bike.
You can upgrade your student bike rental at any time if you wish to rent for a longer period.
Latest News (August 2019)
Let us help you feel safe in traffic!
Get a one to one course in the Danish safety rules and how to ride a bike.
You get your own private coach for 30 minutes who will teach you how to ride a bike and will answer all your questions to make sure you are comfortable and safe in traffic.
The price is only 200 DKK!
It can be found as an option in your booking form – needs to be pre booked 36 hours in advance
Optional Accessories 
Helmet for your safety can be purchased for only 199 DKK
Handy basket for your school bag, handbag or groceries for only 60 DKK
Extra anti-theft lock to secure your bike for only 99 DKK
Mobile phone holder for your bike for only 99 DKK
We look forward to seeing you and helping you with your student bike rental in Copenhagen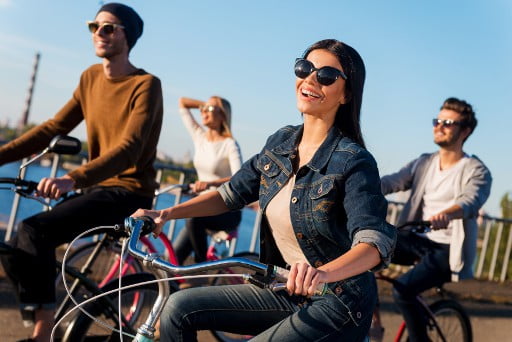 Pickup location
Copenhagen Bicycles Nyhavn 44, 1058 Copenhagen K  (click here to open Google maps in a new tab)