Are you having a semester abroad in our lovely city of Copenhagen?
Then do as the Copenhageners do and bike around the town with a student bike from Copenhagen Bicycles. We will help you become the perfect cyclist – the Danish way.
Use this offer and Save up to 800 DKK 
Searching Availability...
We believe in good karma and have therefore created this student offer in Copenhagen, so you can have the best time in our city as a student without spending all your money on transport. If you're a student, you can rent a student bike starting from 150 DKK per month with free service. If you by any chance have any sort of problem with your bike, simply bring it down to our shop and we'll swap it for another – no charge and no fees. We will ensure you always have a well functioning bike in the best condition. We will make sure we teach you everything about biking around in our beloved town and in no time you will be a professional and safe cyclist once you leave our shop at Nyhavn with your new student bike.
Please be aware
The only size available at the moment is standard (fits 5 ft 1.8 in – 6 ft 10 in) (157 cm – 210 cm)
Bikes may be of various models 
Updated 29-04-2019
There is a required deposit of DKK 1.000,- (approx EUR 134 / USD 159) included in your booking. The deposit will be returned to you when the bike is returned at the end of the rental.
DKK 1.000,- (approx EUR 134 / USD 159) added together with your booking and returned end of the rental.
– Only valid with a Danish student ID Card or invitation letter.
(just bring it at your pick-up).
All bikes include:
Lock
Lights
Adjustable seat
3 gears
Kickstand
Rental options:
1 month: 150 DKK (approx. 23 USD/20 EUR)
3 months: 400 DKK (approx. 60 USD/53 EUR) save 50 DKK
4 months: 500 DKK (approx. 75 USD/66 EUR) save 100 DKK
6 months: 700 DKK (approx. 106 USD/93 EUR) save 200 DKK
12 months: 1000 DKK (approx. 153 USD/151 EUR) save 500 DKK
You can upgrade at any time!
Accessories 
Helmet for your safety can be purchased for only 199 DKK
Handy basket for your school bag, handbag or groceries 60 DKK
Extra anti-theft lock to secure your bike 149 DKK
Mobile phone holder for your bike 99 DKK
Terms and conditions:
You must show a valid student card when picking up the bike.
You must leave a 1000 DKK deposit for the bike.
The bike includes stickers and our logo with frame number etc. It must be returned in the same condition as you received it.
We look forward to meeting you!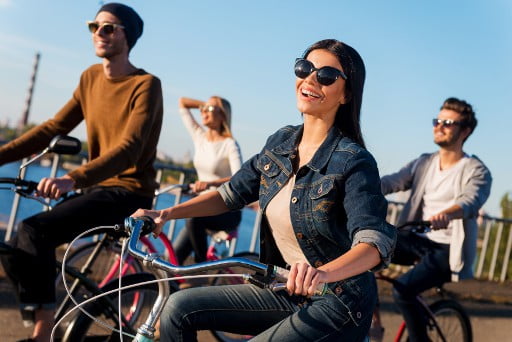 Pickup location
Copenhagen Bicycles Nyhavn 44, 1058 Copenhagen K  (click here to open Google maps in a new tab)