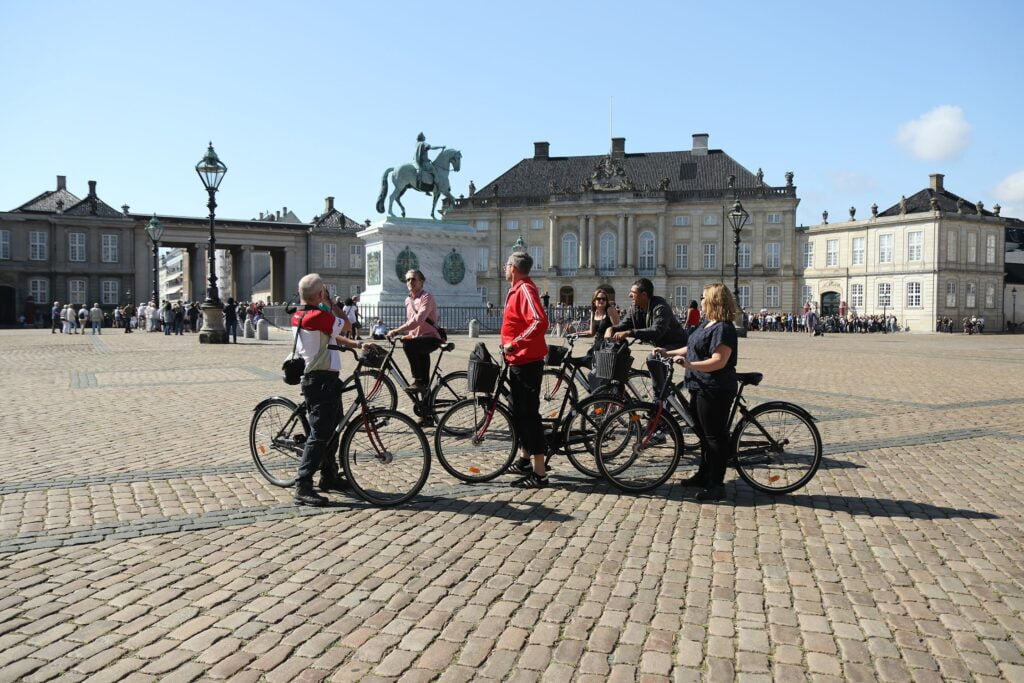 Experience Copenhagen in the best way: By bike. You can bring your own bike or rent one from us!
The guided tour lasts 2,5 hours and begins at 11 AM every day between April 1st – September 30th.
You will get to experience Copenhagen in the way the locals do and you will hear all the fun stories about our city.
Our guide will show you some of these places:
Nyhavn, Amalienborg (The Queen's Castle), Amaliehaven, The Little Mermaid, Christiansborg (The Parliament), Freetown Christiania, The Royal Danish Opera House, Frederick's Church, The Gefion Fountain, Nyboder, King's Garden, Rosenborg Castle, The Round Tower, The Royal Library Garden, The Synagogue, Gråbrødretorv, The Danish National Bank, King's New Square, The Royal Danish Theater, Town Square, Tivoli, Church of Our Saviour, Børsen (The Royal Exchange) and much more.
You will also get to hear about H.C. Andersen, Søren Kierkegaard and other famous people and you will be able to ask about anything you would like to know about the Danes.
The price for the daily guided tour for 2,5 hours is 100 DKK per person excluding bikes. You are very welcome to bring your own bike or rent one at our shop.
Remember, you can also get a private guided tour in your own language, just as you wish. Contact us at info@copenhagenbicycles.dk or order the tour online.
We look forward to seeing you!
Copenhagen Bicycles
Nyhavn 44
1051 Copenhagen K
11:00 - 13:30 ( Two and a half hour )
From 1 to 20 participants
English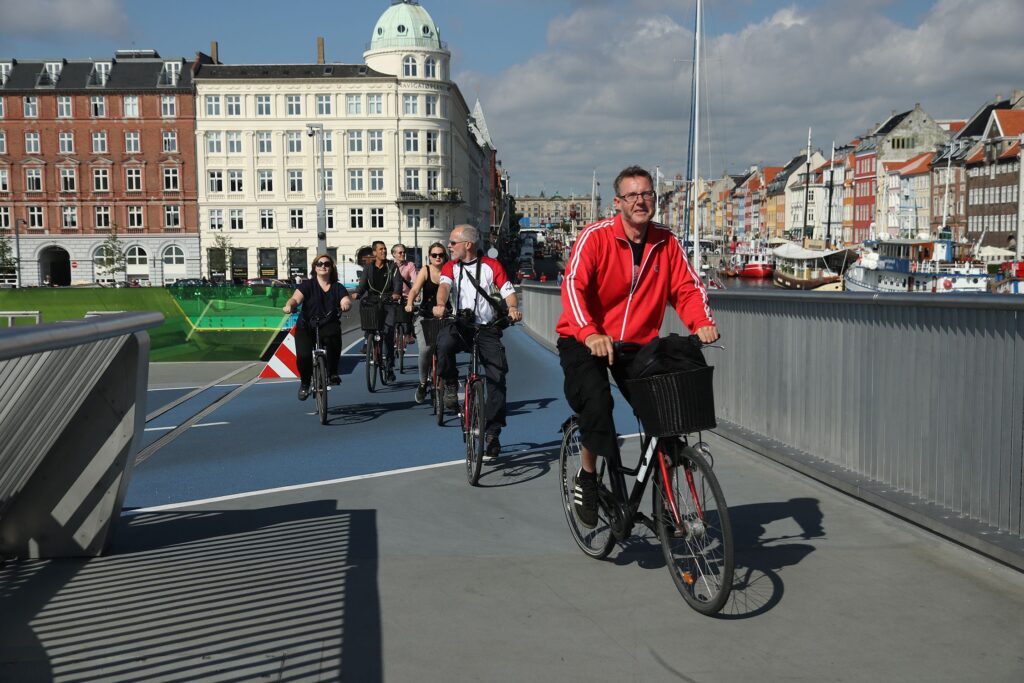 We are the most experienced in guided bike tours. You are sure to have a great time with us.
We can arrange a private guided tour for you and anyone you would like to share it with. We do guided tours by bike and by foot. We can begin and end the tour wherever and whenever you would like it to be. You can be as many people as you like to be and see what you like to see. Everything is possible!
Order the tour online or by e-mail at info@copenhagenbicycles.dk. If your tour consist more than 40 people, please write us an e-mail.
We can find guides for any language. Our main languages are: English, Danish, Scandinavian, German, Spanish, French, Dutch, Italian.
We have made guided tours for families, school classes, companies and groups of friends. There is no age limit.
We have a guide for every 20 people. Our guides are experienced in showing many people around at the same time. You can always feel safe with us.
We look forward to showing you our city in the way you prefer!
Anywhere in Copenhagen

You decide
From 1 to any
English, Danish, Scandinavian, German, Spanish, French, Dutch, Italian.
Learn to become the perfect cyclist on this guided tour, you will be guided with good behaviour and get around the centre of Copenhagen where you get experience as a local.
During the tour we will stop over and get inside.
You will learn cyclist traffic rules.
Manage in the traffic with good behaviour on your bike .
Combined in a guided tour.
Experience tourist attractions in Copenhagen.
Learn the geography and the neighbourhoods
Practical knowledge of good cheap shopping and dining places.
Please note:
We can only complete this tour if we have more than 5 participants, where we unfortunately may be forced to cancel, booked payments will be refunded.
Copenhagen Bicycles
Nyhavn 44
1051 Copenhagen K
2 pm - 4 pm (Two hours) (only on Tuesdays & Saturdays)
From 5 to 20 participants
English